ABOUT SECURCOM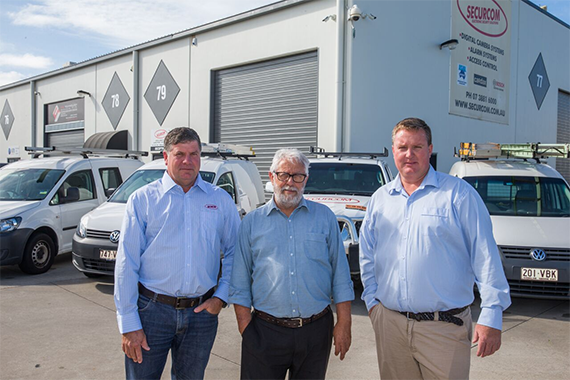 Our Story
The Securcom team is made up of highly skilled electrical security specialists. Based in the Moreton Bay area of Queensland, we are now providing coverage and support to all of Queensland and New South Wales. Since 2000, we have been working with a diverse selection of clients across commercial, industrial and government sectors.
Fully owned by its employees, Securcom is completely invested in ensuring complete client satisfaction and providing the best security solutions possible. We're dedicated to employing highly-skilled professionals with a flair for electrical security. We ensure that all members of our team are able to combine their advanced trade knowledge with a clear awareness and understanding of the importance in providing first-class customer service. The result of this belief is that each and every Securcom client receives a uniquely personalised level of service and a security solution that's customised to exceed all expectations.
Our Vision
Securcom is committed to creating the next level of professional services within the converged security market, becoming the standard by which others are measured.
Our Mission
Securcom strives to provide remarkable solution-based security results that enable our clients to minimize risk, secure their operations and measure the overall effectiveness of their security programs.
Our Values

Excellence in Service: Consistently aiming to give a little more than initially expected, our team always prioritises treating our clients and fellow co-workers with the utmost respect and appreciation. We achieve this through timely communication, accurate information, and superbly executed project results.

Goal-Oriented: Securcom team members measure their performance by establishing targets, keeping score and continuously working towards improved results. Each member of our team aligns their efforts to help clients and co-workers consistently and effectively achieve their goals.

Teamwork: The Securcom team is comprised of skilled professionals with great attitudes and a strong belief in a winning culture. Honesty, reliability and integrity are at the heart of all Securcom decisions because it is simply the right thing to do.

Developing Expertise: Securcom believes in developing our team's individual and overall expertise to further our team members' professional goals, as well as the company. Through opportunities for both personal and professional growth, our team actively takes the initiative to learn, improve, and acquire new skills to continue providing cutting-edge, innovative electrical security solutions.

Balance: We believe that leading a balanced life is integral to our success as a healthy, supportive team of professionals. Securcom team members are actively encouraged to take care of themselves physically, spiritually, and emotionally.